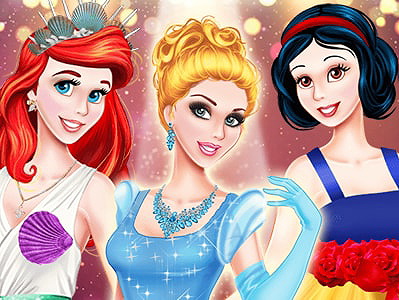 Playing Make Your Own Princess on Prinxy
The story about Make Your Own Princess
What would this world be without fantasy characters in it? Probably a sad, dull place, but guess what? We are not going to let that happen. We have the perfect game to train your creativity, and together we will flood the online world with gorgeous princesses. Are you ready to give it a try? Then let's get started with this brand-new game for girls called Make Your Own Princess and create some beauties!
In it, you are going to discover all the elements of a fun doll-maker game. There are many princesses' gowns and accessories to choose from, there are gorgeous hairstyles, and also facial features that will help you create the perfect look for your new, unique character. But let's take a closer look at these category tabs, shall we?
You can start by choosing the right princess gown for your fantasy doll. In this princess dress up game, you can find an impressive selection of dresses. You'll recognise some of them super easy because they were borrowed from the Disney princesses' wardrobe, but there are some unique dresses that you can use to create a colorful look for your new doll. Browse through them all and select your favorite. Once the main decision is made, go ahead and accessorise the chosen outfit with oversized jewellery, elegant clutches, and other accessories you might like for your character.
Great job, ladies! Now be ready to play with your princess's unique facial features. 24 eye options come in a wide variety of colors and shapes, 24 mouth options, 24 unique eyebrows, and even 12 skin shades colors to choose from. Check them all out and customise your fantasy character as you wish.
Have a great time playing this fun doll-maker game for girls online at Prinxy.app!
Game Controls
Use your mouse to browse through all the category tabs in this online doll-maker game for girls!
Similar Games
Here are three more Avatar Games you should check out:
My Manga Avatar
Become A Princess
My Cold Season Avatar