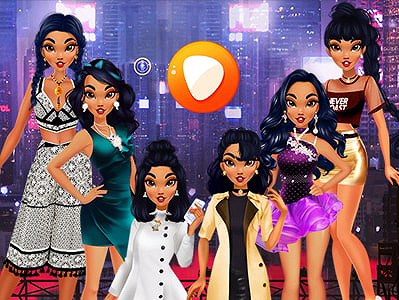 Playing What I'd Wear If I Were A… on Prinxy
The story about What I'd Wear If I Were A…
If you ladies love the online fashion challenges as much as we do, then you must play our brand-new dress up game for girls! The game is inspired by the TikTok trend #whatidwear, and while playing it, you are challenged to help Princess Jasmine explore quirky dress up ideas to make her own video for the challenge. Get started with "What I'd Wear If I Were A…" and see what cool outfits you can put together for our black-haired princess!
But first, let's discover the six situations Princess Jasmine took into consideration for this fashion challenge. Carefully read her ideas and then help her pick the right outfit for each of them! Uh, la la! It looks like she is starting it in a big style! So here comes the first task for you. What should she wear if she was a... millionaire heiress? That should be easy! A designer dress, expensive high heels, diamond jewelry, and a perfect haircut. Opulence is the tag that should reflect her crazy rich princess outfit! Next, be ready to step out of the ordinary! Feel challenged to dress her up like a circus acrobat! Mix your favorite sequinned top with a tutu skirt or with chic shorts trimmed with faux-feathers, and then complete her circus girl look with oversized tassel earrings. Don't forget to also select the right props for her. Two out of six outfits are down. Are you curious what's the third one on her list?
Continue playing this online princess game, and help her decide on her next outfits, the rocket scientist! Princess Jasmine is a true fashionista at heart, so even if the job is serious, she would keep her outfits up to the latest trends. In Jasmine's scientist wardrobe, you will find an impressive selection of trendy layered outfits that feature safari shorts, crayon miniskirts, shirts, blouses with NASA prints, and blazers. Have her try the ones you like the most, pick the winning scientist outfit for her challenge and accessorise it with leather boots and science-inspired jewellery. Well done, ladies! Next, find the right trench coat or plaid dress for her teenage detective look, and see what cool outfit in earthy colors you can put together for her safari outfit. Do you still have ideas for one more look? Continue playing this online fashion game and be prepared for a surprise!
The sixth outfit she needs for her video challenges you to create the coolest festival look. She's performing as a DJ, and you can go as crazy as you want! You can choose crop tops, latex mini-skirts, spaghetti dresses, or even mini-dresses with playful cut-outs. Instruments and a mic are a must, so make sure to pick some!
Perfect, now let's put these cool outfits into a viral video and see if Princess Jasmine can win the #whatidwear challenge on TikTok. Have a great time playing the best dress up games for girls online at Prinxy.app!
Game Controls
Use your mouse to interact.
Similar Games
Here are three TikTok Games you should check out: