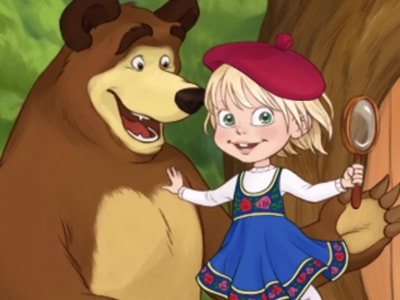 Playing Dress Up Masha on Prinxy
The story about Dress Up Masha
Put your fashion skills to the test to see what cute look you can put together for mischievous Masha. The little Russian girl from the popular cartoons Masha and the Bear needs your help to get ready for a new adventurous day in the forest. Are you ready to surprise her with a new look? Get started with the Dress Up Masha game for girls and have a blast dressing her up online at Prinxy.app!
This new dress up game portraits the little Russian girl and her best friend, the Bear! They are getting ready to set off on a new adventure and explore the forest where they live but not before Masha getting her outfit of the day perfectly mixed and matched. The adorable girl usually wears a pretty dress with Russian motifs on it, but today you can have her dressed in anything you like. Are you ready to browse through Masha's new wardrobe?
Besides her signature dress, in this fun cartoon game, you will also find many candy-colored spaghetti dresses and long dresses with playful prints that you can pair with your favorite white shirt. But there are also some super cool holiday-themed costumes that you should also check out. Have her try on different combos and when you've done, look for some accessories to complement the chosen outfit. Make sure to select a comfy pair of shoes first, and then do her hair. Next, complete her look with a girly-girl hair bow or decide on one of her signature kerchiefs or a cool fantasy-themed hat. Then go crazy with the accessories! There are so many that you can literally complete any look you want. There are see-through wings for a little fairy look, there are fluffy pink ears that you can use to turn her into an Easter bunny, and there are even props to turn her into a Japanese schoolgirl that's playing video games. Pretty cool, huh?
Mix and match the clothing pieces with your favorite accessories and create a lovely look for this lovely Russian girl while playing Dress Up Masha online at Prinxy.app! Have a blast!
Game Controls
Use your mouse to interact.
Similar Games
Here are three more Girl Games you should check out: