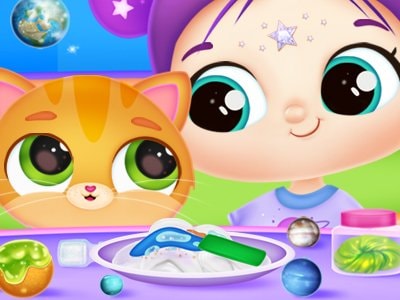 Playing Miruna's Adventures: Slime Galaxy on Prinxy
The story about Miruna's Adventures: Slime Galaxy
Hey kids, did you miss our jolly friend Miruna? She is back with another adventure that you are going to love. She's off on a fun adventure into the universe, and she plans to stop on each planet to... create a unique slime for each planet. So are you ready to explore the solar system? Play Miruna's Adventures: Slime Galaxy online at Prinxy.app, mix various ingredients into clear slime, and make colorful slime inspired by different colors of our solar system.
But before getting started with Miruna's first slime, let me tell you some more details about this online educational game for girls. Miruna is going to take you to all eight planets of the Solar System, and together you will make one slime that highlights the main features of that planet. For each slime, you are going use different ingredients, and each resulting slime will be unique not only in terms of color but also in hardness and elasticity. And that's not all! Miruna's Adventures: Slime Galaxy is not only a DIY game, but it's also an educational game that's loaded with many fun facts. You shouldn't skip them, you get to learn cool stuff about the other planets in our Solar System. Let's explore the Solar System together with jolly Miruna!
The first planet you two are discovering together is Mercury, the smallest planet in the solar system. Orange, yellow, and copper are the representative colors of this planet, so you and Miruna need to get a solid yellow slime with copper beads and orange glitter in it. Mix the right ingredients, and your Mercury slime will be ready in no time. Great job, ladies! Your next stop is on planet Venus. This is the planet that rotates in the opposite direction than Earth, and your Venus slime should have light colors such as silver, white, light gold, and nacre. But wait to see the ingredients you're using to make this perfect slime.
Do you know which is the third planet from the sun? It's the Earth! And this planet's slime should be inspired by its signature colors such as blue, green, white, and light blue. Sprinkle the ingredients on the clear slime, mix them well, and make your Earth slime with a few clicks. Next, buckle up for an amazing trip to the Red Planet. Missions to Mars are very popular nowadays, but did you see a Mars-inspired slime in stores? Let's make the first one today! Hope you are ready for some more we still have four more planets to cover. Definitely, the most spectacular slime is going to be the one inspired by Jupiter. It's the largest planet in the Solar System, and it has rings made of dust and asteroids.
Three more challenges to cover in this Galaxy adventure, so are you ready to discover the last three slimes features in this online game for girls? The next stop is on planet Saturn. Similar to Jupiter, this planet is also surrounded by rings, but this time we're discussing ice rings. Also, the colors representative of your Saturn slime will be the different shades of yellow, a bit of orange, and a hint of sand. Sprinkled with dark yellow sequins and surrounded by rings, your Saturn inspired slime will be unique. Next follows Uranus, one of the gas giants of our Solar System. Are you curious to see what ingredients you are going to use to obtain a fluffy blue slime inspired by planet Uranus? One more stop, and we've got our collection of galaxy slimes complete. Neptune is the 8th planet in our Solar System, and this beauty is ruled by many shades of indigo. Get started with the last task in this online DIY game for girls and see how beautiful your Neptune slime will turn out.
Educational and fun, loaded with girly-girl stuff and tons of fun facts, Miruna's Adventures: Slime Galaxy is one of the best kids games online. And that's not all! It also has eight unique mini dress up games which hide clothing pieces and accessories in the colors representative of each planet that you and Miruna are going to visit. Play it today!
Game Controls
Use your mouse to interact.
Similar Games
Here are three more of Miruna's Adventures you should check out: