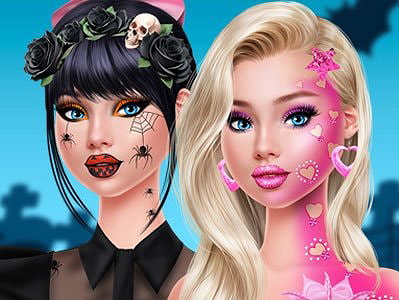 Playing Pop Culture Halloween Makeup on Prinxy
The story about Pop Culture Halloween Makeup
Get ready for a spooktacular makeup adventure with Pop Culture Halloween Makeup, the ultimate game for girls who love Halloween and makeup! Unlock your creativity as you recreate three iconic Halloween looks Barbiecore, Wednesday Addams, and The Little Mermaid. With endless options for hairstyle, eyeshadow, mascara, lipstick, blush, neck paint, tops, and accessories, you can create a unique, and stunning Halloween makeup look.
In the first unit of this online Halloween game, get inspired by the trendy #barbiecore style and delve into the world of pastel aesthetics. Choose from a wide range of hairstyles that perfectly complement your Barbiecore-inspired Halloween look. Experiment with vibrant eyeshadow and volumizing mascara to make your eyes pop. Add a touch of color to your lips with gorgeous lipstick shades available in a wide selection of pink shades. Explore unique blush options with intricate designs to give your cheeks a rosy glow. Don't forget to adorn your neck with fashionable paint, and complete your look with stylish tops and accessories.
Continue your Halloween adventure and get ready to embrace your inner goth with a Wednesday Addams-inspired Halloween look. Style your hair in a classic ponytail or sleek, straight locks. Apply smoky and dark eyeshadow for a mysterious look, and use mascara to make your lashes stand out. Choose from a variety of lipstick shades to give your lips a touch of darkness. Don't be afraid to go for dark blue or black this time. The blush options in this unit feature designs like spiderwebs and bats for an extra spooky effect. Which one will you pick? Don't forget to paint your neck in a pale, ghostly color to complete the Wednesday Addams vibe. Try on different tops and accessories to fully embody the iconic character.
Next, dive into the enchanting world of The Little Mermaid and recreate a mesmerizing Halloween look by unlocking the third unit of this free-to-play makeup game for girls. Experiment with hairstyles that scream nothing else but #mermaidcore. Enhance your eyes with shimmering and aquatic-inspired eyeshadow shades with a spooky effect. Lengthen and volumize your lashes with mascara, and choose a lipstick shade that complements the sea enchantress aesthetic. The blush options in this unit are inspired by the underwater creatures, providing a unique and whimsical touch. Finally, accessorize your look with sea-inspired tops and accessories.
With Pop Culture Halloween Makeup, the possibilities are endless. Unleash your imagination, explore different makeup combinations, and create jaw-dropping Halloween looks that will have everyone in awe. So get ready to channel your inner Barbiecore, embrace your inner Wednesday Addams, and dive into the depths of The Little Mermaid. Let the magic of Halloween and makeup intertwine in this captivating game designed just for you. It's time to bring your favorite pop culture icons to life!
Have a great time playing the Pop Culture Halloween Makeup game for girls online at Prinxy.app
Game Controls
Use your mouse to browse through all the options in this online game for girls.
If you like this game, you can also try other Halloween Games by Prinxy.app: