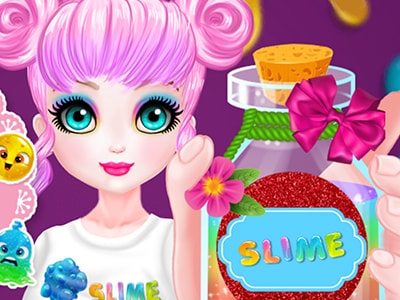 Playing Princess Slime Factory on Prinxy
The story about Princess Slime Factory
Queen Elsa came up with the crazy idea of opening a slime factory. She spent weeks finding the right mix of ingredients, and now that the tests have brought the much-dreamed-of product, she can't wait to make huge amounts of it and surprise all the kids in Arendelle with a colorful bottle of homemade slime. Care to help her out? Then come and join her in getting started with the Princess Slime Factory game for girls and find out how easy it is to prepare a colorful slime at home!
Are you girls ready to learn what are the needed ingredients? Then tap the start button and join Queen Elsa in this online DIY Game for girls. Once you find yourself in Elsa's kitchen, you can decide which slime you'd like to make first. Elsa already has three different recipes, and you can try making each one of them. Now let's make sure you have all the ingredients available at your disposal. To make slime at home, you will need liquid soap, shampoo, toothpaste, shaving foam, baking soda, glue, food coloring, and even glitter. Depending on which slime recipe you choose, you are going to need only certain ingredients from all those mentioned above. But no worries, Queen Elsa is here to guide you step-by-step, and she's going to tell you which ones to use, and how much to mix. Make sure to follow her instructions closely, and you'll get your perfect slime done in no time!
With the first batch of colorful slimes ready to be delivered, you are now challenged to design a stylish package for it. Put the slime into a clear bottle and then show off your designer skill while continuing to play this fun decoration game on Prinxy.app. First, decide on the stopper. There are many stopper options to choose from, and you can go for a cork, a glass stopper, or even for a crystal stopper. Then beautify the package with colorful etiquettes, glitzy stickers, and even bows. Make it look premium!
Have a great time playing the Princess Slime Factory game for girls online at Prinxy.app!
Game Controls
Use your mouse to interact.
Similar Games
Here are three more DIY Games you should check out: