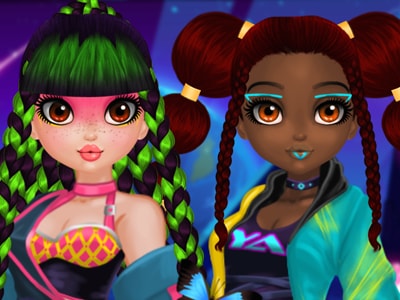 Playing Cyberpunk Hairstyle 2200 on Prinxy
The story about Cyberpunk Hairstyle 2200
Cyberpunk hairstyles are so in trends this year! They are extravagant, bold, they look fabulous, modern, and definitely worth a try if you have the courage! Six of your favorite Disney princesses can't wait to try these bold hairstyles. Will you be the stylist behind their crazy looks? Play the Cyberpunk Hairstyle 2200 game for girls, and deal with their jaw-dropping, eccentric looks!
Cyberpunk hairstyles give a bold look. They feature amazing colors of abrasive and purple, straight-cut bangs, and a spiky brim in the shape of a ridge or a pyre. The asymmetrical pixie style is usually complemented by an extravagant fashion style, and a shrill makeup looks that feature feathered eyebrows, contoured lips, and elaborated face designs. Can you picture your favorite Disney princesses such as Queen Elsa, Ariel, or Tiana getting into the Cyberpunk style?
Become their personal stylist and help the girls discover this daring, futuristic style while playing the Cyberpunk Hairstyle 2200 hair game for girls online at Prinxy.app! Select a princess to start the fun with, then follow some easy step-by-step instructions and learn how to make six unique cyberpunk hairstyles on your own. But before anything else, wash your client's hair with a delicate shampoo, and don't forget to also apply a nourishing hair mask to it. Next, dye the girl's hair in neon colors, style it in playful braids, into a notorious Mohawk, or in a cool asymmetric haircut with shaved details on the sides. Once you've done creating the rebellious hairstyle, you can then go on and complement it with an equally eccentric makeup look that is meant to take these girls' out of the print.
They look outstanding, don't you agree? Save your creation and challenge your friends to play the Cyberpunk Hairstyle 2200 game on Prinxy.app too!
Game Controls
Use your mouse to complete all the activities in this online hair game for girls.
Similar Games
Here are three more FREE Punk Games you should check out: