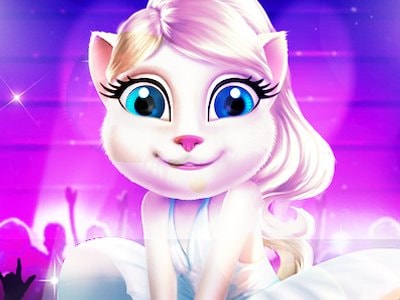 Playing Superstar Kitty Fashion Award on Prinxy
The story about Superstar Kitty Fashion Award
We have a brand-new beauty challenge for you ladies, be ready for it! In this complex makeover game for girls, you are challenged to turn this beautiful white kitty into a beauty like a superstar. Play the Superstar Kitty Fashion Award game for girls online at Prinxy.app and show off your beautician skills!
But first thing first… let's meet our superstar. She's Talking Angela and with your help, she's going to steal all the spotlights on the red carpet tonight. The Fashion Award gala is such a pretentious event that the whole preparation process was created in the smallest details. She's going to guide you through her total transformation process... and while completing it, you can also learn some of her beauty tips and tricks.
Get started with this brand-new makeover game for girls and get Talking Angela ready to hit the red carpet looking fabulous. Begin with a facial treatment. This is a session in which you get to use the best cosmetics available and sure her face looks great tonight. Follow the beauty scheme that was specially created for our famous superstar and apply the products on her face as instructed. Use warm water to rinse the products and dry her face with a fluffy towel.
Next, continue the kitty's preparation with a spa session. Spoil her back with yummy creams and then apply a batch of hot stones. The hot stone therapy will help her deal with the back pain and it will also help her keep the best posture tonight. Continue with a quick stop at the hair salon, become her hairstylist and surprise Angela with an elegant updo. Are you girls ready for some more? Then move ahead to the makeup stage.
As the big event is approaching fast, it's important to pick the best possible outfit and get her makeup right if you want her to be crowned queen of the fashion awards. Make her look flawless! Have a great time playing the Superstar Kitty Fashion Award game for girls online at Prinxy.app!
Game Controls
Use your mouse to complete all the tasks in this multi-leveled game for girls
Similar Games
Here are three more Talking Angela Games you should check out: