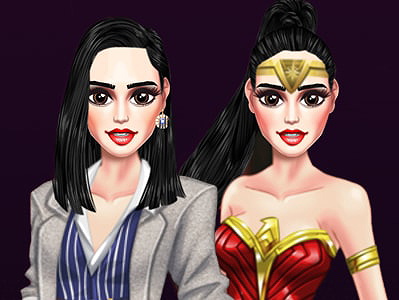 Playing Wonder Princess Vivid 80s on Prinxy
The story about Wonder Princess Vivid 80s
Join Princess Diana on her trip back in time and help her discover the vibrant 80s. The 1980s were a decade of bold styles, colors, and silhouettes, oversized clothing items, shoulder pads, and glitzy cocktail dresses. In this online dress up game for girls, we gathered some of the most iconic items of the 80s, and we challenge you little fashion stylists to put them together in jaw-dropping modern looks fitted for an event in 2020. Come and get started with the Wonder Princess Vivid 80s, and dress up our superhero princess to impress!
In this fashion game for girls, you get to dress up Diana, the Amazonian warrior, in two different styles. On the one hand, you can pick from a collection of shining warrior armors. Besides her selection of signature costumes such as the red and blue dress with golden inserts or the traditional star-spangled tights, you can also find golden body-suit armoires or feminine amazonian dresses. Select the winning superhero look for princess Diana, and make sure to accessorize your selection with her favorite accessories such as a golden lasso, shield, sword, and a golden tiara. On the other hand, you can dress her up in the most spectacular cocktail dress, or business suit with padded shoulders and an oversized jacket, or even into a feminine blazer that you can accessorize with a midi skirt and high heels. Great job, ladies!
Next, let's help her do her makeup, too! In the 80s, women loved to dress up for going to the beach. And that meant a lot of coral lipstick, shimmery-gold eyeshadow, and colorful mascara incorporated in the makeup. Let's dig into Diana's makeup kit and help wow with a stunning makeup look. Use as many colors as you can and create a makeup look that screams a good mood. Complete Wonder Princess 80s inspired look with a new hairstyle as well.
Have a great time playing the Wonder Princess Vivid 80s dress up and makeup game for girls online at Prinxy.app!
Game Controls
Use your mouse to interact.
Similar Games
Here are three more Fashion Games you should play next: