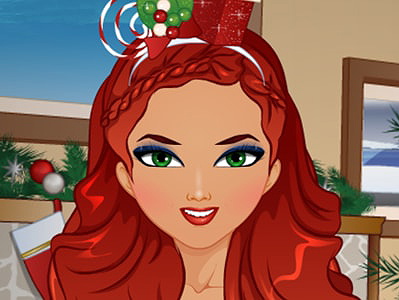 Playing Christmas Party Hairstyles on Prinxy
The story about Christmas Party Hairstyles
Christmas is already here, and gorgeous Lucy can't wait to gather up with her friends and celebrate it in style. She is in charge of holding the Christmas party this year, and she can't wait to start welcoming her first guests! The Christmas tree and the decorations are up, she just needs to take care of her look next, and she'll be ready to welcome the first guests. Will you help her out? Lucy is in a bit of a hurry, and a helping hand is much needed, so come and join her in getting started with the Christmas Party Hairstyles game for girls!
The first task you have to complete in this online holiday game for girls is the hairstyling task. Start by washing her hair with a shampoo to clean it up, use a conditioner to untangle it, and a hair mask to hydrate it. Then, rinse the last product, blow-dry, and brush it. Next, you can style it as you wish! There are bangs options, braids, curls, or buns. You get to style each part of the hair separately, so you can customize the look the way you want. Then you can dye the hair red or white to really be in the Christmas spirit, you can make her a brunette or a blonde, or you can be bolder and add some green tips or some purple ones. You can design any hairstyle in this free to play hair game for girls! Now let's move to the next stage of the game and help her deal with her party looks!
Are you ready to prove your makeup artist skills next? Lucy wants to impress with gorgeous looks, and today you can help her impress with bold makeup. Use dark and glitzy colors for her eyeshadow, and then choose a lipstick to match, mascara, and blush. What else to consider next? Her outfit! Continue playing this online dress up game for girls by choosing Lucy's party outfit. Given she's attending a Christmas-themed party, you can even choose a Santa girl outfit for her, or you can simply choose a sequined outfit to match her bold makeup look. Make her glow!
Have a great time playing the Christmas Party Hairstyles game online at Prinxy.app!
Game Controls
Use your mouse to interact.
Similar Games
Here are three more Christmas Games you should play next: