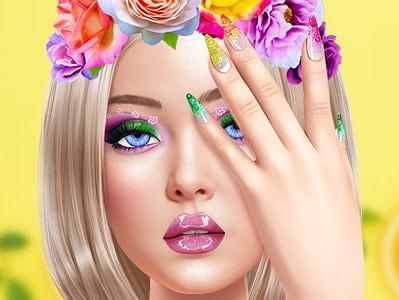 Playing Practice On Me on Prinxy
The story about Practice On Me
Are you ready to embark on a glamorous summer adventure? Look no further than Practice On Me, the ultimate makeup game that will transport you to a summer fantasy like no other! With three exciting units centered around different themes, you'll transform yourself into a festival goddess, a beach babe, or a blooming flower child. So grab your brushes, swipe on some lipstick, and let's get glam!
With Practice On Me, the summer fantasy is just a swipe away! Whether you're dancing at a music festival, relaxing by the beach, or embracing the beauty of nature, this game has it all. So grab your makeup brushes and get ready to let your inner artist shine. Make waves with your festival makeup, channel your inner mermaid with your beach look, and bloom like a flower with your floral summer makeup. The possibilities are endless, and the fun is guaranteed. Get ready for a summer adventure like no other with Practice On Me!
First, get into the festival fever and it's about the time to embrace your inner festival goddess! In the first unit of our online beauty game for girls, you'll create a jaw-dropping festival makeup look and nails that will make you the center of attention. Start by applying a mesmerizing eyeshadow in vibrant colors that scream fun and excitement. Swipe on some mascara to give your lashes that extra drama. But why stop there? Add a pop of color to your lips with a bold lipstick shade that shows off your daring personality. And don't forget to adorn your face with shimmering face gems and playful colorful lenses to truly capture the festival spirit. Complete your look by giving your nails a festival makeover with bright and playful colors that will make your fingertips dance with joy! Are you ready for some more?
Continue the fun in the Practice On Me makeup game for girls and get ready to bring the beach wherever you go with the beach beauty unit! This look is all about capturing the effortless beauty of a day spent by the ocean. Start by applying a shimmery eyeshadow that mimics the stunning colors of a breathtaking sunset. Be sure to swipe on some waterproof mascara to keep your lashes looking fabulous even after a dip in the water. For your lips, choose a glossy and hydrating lipstick in a juicy hue that will make you look like a beach goddess. And of course, no beach look is complete without a touch of sparkle! Adorn your face with face gems that will catch the sunlight and make you shine bright like a diamond. And when it comes to your nails, choose beach-inspired colors like sandy nudes or vibrant turquoise blues that will transport you to paradise with every glance.
Last but certainly not least, step into a world of blooming flowers and create a floral summer makeup look and nails that are fresh, vibrant, and oh-so-pretty! For your eyes, apply a soft and romantic eyeshadow in shades of pink, purple, and green to create a dreamy and ethereal look. Swipe on some mascara to make your lashes flutter like delicate petals. Choose a soft and natural lipstick shade that complements your skin tone, giving your lips that perfect touch of color. To truly embrace the floral theme, adorn your face with delicate face gems in floral patterns or shapes that will make you look like you stepped out of a garden. And, of course, your nails can't be left out of this blooming experience. Choose from an array of pastel shades to create a base, or let your creativity blossom with floral-inspired nail art that will make your fingertips look like a masterpiece of petals and leaves.
Remember, ladies, in Practice On Me, there are no makeup mistakes, only fabulous transformations waiting to happen. So let your creativity soar, have fun, and embrace the magic of summer. Get ready to slay those makeup looks and be the summer queen you were always meant to be. Practice On Me is here to turn your summer fantasy a reality, one brushstroke at a time. Let the adventure begin!
Have a great time playing the Practice On Me game for girls online at Prinxy.app!
Game Controls
Use your mouse to browse through all the options in this online game for girls.
If you like this game, you can also try other Makeup Games by Prinxy.app: