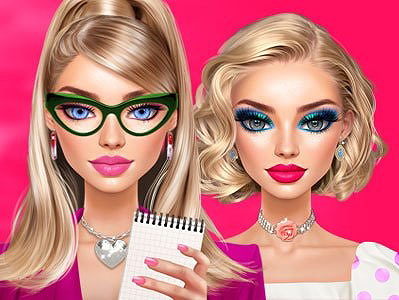 Playing Barbiemania on Prinxy
The story about Barbiemania
Experience the ultimate makeup adventure with the Barbiemania makeup game where you get to unleash your inner stylist! Are you ready to embark on a glamorous journey into the world of fashion and beauty? Look no further because Barbiemania is here to take your makeup skills to a whole new level! Get ready to join the iconic doll Ellie as you create stunning makeup looks for three different occasions. Let's dive into the magical world of Barbiemania and unleash your inner stylist!
In the first unit of Barbiemania, you have the exciting opportunity to create a metallic makeup look for Ellie. The theme revolves around stars and constellations, bringing a touch of celestial glam to her appearance. Let your imagination soar as you explore the endless makeup options available. Start by choosing a fabulous hairstyle that best complements the starry theme. From sleek updos to cascading curls, the choice is yours. Next, it's time to focus on the eyes. Experiment with a vast array of eyeshadow colors inspired by the mesmerizing cosmos. Create stunning starry designs or blend metallic shades to capture the essence of the night sky. Enhance Ellie's lashes with mascara that adds volume and drama to her eyes, making them truly mesmerizing. As for the lips, select the perfect shade of lipstick to complete the metallic look. Whether you opt for a vibrant, bold color or a subtle nude shade, the choice is yours. To take the celestial glam to the next level, accessorize Ellie with constellation-inspired jewelry and sequined tops that add a touch of sparkle. Let her shine like a star in the night sky and create a look that is truly out of this world!
In the second unit of our online makeup game, you'll help Ellie glam up for a productive day at the office. It's time to embrace a sleek and sophisticated vibe as you curate an office-appropriate makeup look that exudes confidence and professionalism. Start by selecting a hairstyle that balances elegance and practicality. Choose from a range of chic updos or opt for a classic, sleek blowout. Next, focus on the eyes. Keep the color palette neutral and opt for subtle eyeshadow shades that enhance Ellie's natural beauty. Add a touch of definition with carefully applied mascara. For the lips, choose a lipstick shade that adds a pop of color without being too overpowering. A soft pink or a nude shade can create a polished and sophisticated look that is perfect for the office environment. Continue playing the dress-up game to complete Ellie's office chic transformation and choose to dress her up in sleek suits, candy-colored blazers, and office-inspired accessories. From notebooks to glasses, let her exude professionalism and style as she takes on her day at work.
Looking for more looks? Then you cannot miss the party glamming session she has prepared for you where you get to turn her into a real retro diva. Get ready to travel back in time to the vibrant and energetic 1980s in the third unit of Barbiemania. This party-themed unit is all about embracing bold and glamorous makeup looks inspired by the iconic decade of pop culture. Let's start by selecting a hairstyle that screams 80s fabulousness. Think big, voluminous curls or sky-high teased hair. The goal is to achieve the iconic voluminous look that defined the era. When it comes to eyeshadow, unleash your creativity and experiment with bright and vibrant colors. Think electric blues, vivid pinks, and striking purples. Combine multiple shades to create stunning eye-catching designs. And don't forget the mascara to make Ellie's lashes pop. The lips should be the showstopper in this unit. Opt for bold and vibrant lipstick shades such as fiery reds, vivid oranges, or daring fuchsias. Let Ellie's lips steal the spotlight and complete her retro diva transformation. Accessories play a crucial role in capturing the essence of the 1980s. As you continue playing our fashion game, choose from a wide array of statement jewelry, from oversized hoop earrings to statement chokers. And don't forget the sunglasses. Think bold frames and funky shapes that truly embody the spirit of the era.
With Barbiemania, the possibilities are limitless. Each unit offers unique makeup options, allowing you to embrace different styles and unleash your creativity. Let your imagination run wild as you explore hairstyles, eyeshadows, mascara, lipstick, jewelry, sunglasses, and glasses. Mix and match to create the perfect look for each occasion.
Have a great time playing the Barbiemania Makeup game for girls online at Prinxy.app
Game Controls
Use your mouse to browse through all the options in this online game for girls.
If you like this game, you can also try other Fashion Games by Prinxy.app: