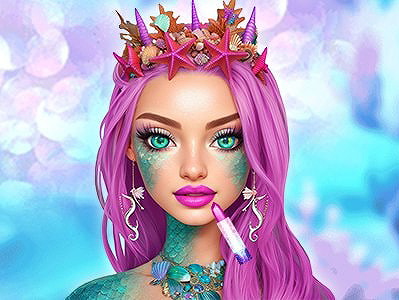 Playing Mermaidcore Makeup on Prinxy
The story about Mermaidcore Makeup
Introducing Mermaidcore Makeup, the ultimate online game that will transport you into a world of fantasy and magic! Join three fabulous ladies on an exciting adventure as you unleash your creativity and create mesmerizing makeup looks like never before. Get ready to dive into a sea of possibilities and embrace the enchanting #mermaidcore style!
In Mermaidcore Makeup, you'll have the chance to work your magic on each of the three gorgeous ladies. For each girl, you'll step into the role of a talented makeup artist, helping them achieve the perfect fantasy look. Brace yourself for a journey filled with endless options as you explore a vast array of hairstyles, eyeshadows, mascara, lipsticks, face patterns, and intricate shoulder and neck patterns that perfectly match each girl's unique style and personality.
To begin your magical makeover, start by selecting one of the enchanting ladies. From there, the possibilities are limitless. Let your imagination run wild as you experiment with various hairstyles, from flowing mermaid waves to braided updos adorned with dazzling accessories. Choose from an astonishing range of eyeshadow colors inspired by iridescent underwater palettes, allowing you to create stunning looks that capture the essence of the ocean.
Next, as you continue playing this mesmerizing beauty game for girls, it's time to make their eyes sparkle like shimmering seas. Select the perfect mascara to enhance their lashes, making them look voluminous and fluttery. As for the lips, you have an array of luscious lipsticks in shades ranging from mystical blues to vibrant corals. Choose the ideal color that brings out the mermaid's captivating smile.
But the true magic lies in the endless face and shoulder patterns available to you. With a magical swipe of your digital makeup brush, you can adorn their faces with intricate scales, sparkling stars, or ethereal waves that will leave everyone in awe. Don't forget to add a touch of whimsy with the shoulder and neck patterns, matching the mermaid's overall look with intricate details that truly make them shine.
To complete the #mermaidcore transformation, sprinkle their faces with glittering face gems that resemble twinkling sea treasures. Crown their heads with seashell-made tiaras that exude elegance and royalty. And to add that extra glamour touch, choose from an assortment of mesmerizing jewelry, such as oversized necklaces that cascade their chests like shimmering coral reefs.
Every step of the way, Mermaidcore Makeup ensures that you have the freedom to unleash your creativity and create stunning, youthful, and fun looks. Whether you prefer a vibrant and bold mermaid look or a soft and ethereal one, the game provides you with the tools and options to bring your vision to life. Mix and match colors, patterns, and accessories to create a truly unique and magical style.
Have a great time playing the Mermaidcore Makeup game for girls online at Prinxy.app
Game Controls
Use your mouse to browse through all the options in this online game for girls.
If you like this game, you can also try other Mermaid Games by Prinxy.app: