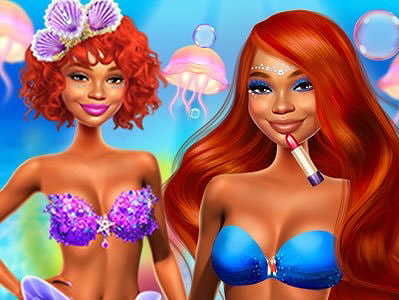 Playing The Trendy Mermaid on Prinxy
The story about The Trendy Mermaid
Welcome to The Trendy Mermaid, the perfect game to dress up and style the brand-new star - Ariel! Now it's your turn to let your creativity blossom and give Ariel the perfect look. In this free-to-play game for girls, you have a wide selection of makeup, clothes, and accessories. Help Ariel get ready for a major comeback and be the trendiest mermaid ever!
But before you dive into the amazing yet fashionable adventure, let me tell you something cool about this game. We've used AI to generate pieces from this amazing game inspired by Disney's latest fantasy movie called The Little Mermaid and the result is pretty wow. I won't keep you any longer, let's get started with The Trendy Mermaid game for girls and have a blast creating the perfect mermaid look and fashionista princess outfits for Ariel.
You're starting this incredible adventure with a super fun make-up game in which you get to test your MUA skills. In the makeup section, you get to choose from an awesome selection of eyeshadow colors from pastels and shimmering glitter looks. Use mascara to give those mermaid lashes a boost. Finish up with Ariel's signature pink lipstick for a mermaid look with a twist. Choose from a variety of sparkling face gems to give her a truly unique touch – they'll add the perfect finishing touch to Ariel's look.
Then give Ariel that modern princess flair with trendy cuts and colors. Whether she's dressed in a pair of shorts and a sequined crop top or a beautiful mermaid dress, she'll look amazing. You can also pick a few flashy accessories to complete the look like a stylish headband or statement earrings. Ariel's transformation won't be complete without a gorgeous hairstyle which you get to choose from a wide selection of different styles. For the first dress-up game, you have at your disposal an incredible selection of mermaid looks to choose from. One of the staples for any mermaid look is a colorful tail piece. With The Trendy Mermaid game, you get to choose between vibrant pastels and rainbow hues. Accentuate the tail with a glimmering bra top to add a little more shine to her look, and the right princess crown that can be made out of seashells, pearls, and reefs.
For the princess look, you have plenty of options to choose from to create the perfect look without any limitations. Elegant floor-length gowns, off-shoulder dresses, ballroom style tops paired with sleek shorts, and a selection of cozy skirts – all of these options are available in our fashion game and can be mixed and matched as you wish. The vibrant colors, such as green and blue, will make her look classy while the stunning sequins will breathe a fashionable life into Ariel's style. Accessorize the ensemble with statement jewelry pieces and a pair of dazzling heels to complete the look. the hairstyle a special touch, you can add subtle highlights and dyes to make it even better. After you are done deciding what look to make for Ariel, she will become the trendiest mermaid ever! Get ready to style her up and watch her shine in all her glamour and glory. So, let your creativity blossom and make Ariel look perfect for The Little Mermaid 2023!
Have a wonderful time playing The Trendy Mermaid game online at Prinxy.app!
Game Controls
Use your mouse to browse through all the options in this online game for girls.
If you like this game, you can also try other Ariel Princess Games by Prinxy.app: