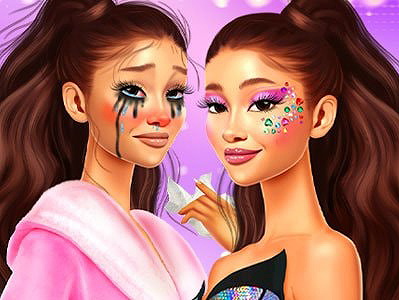 Playing Ariana Breakup Drama on Prinxy
The story about Ariana Breakup Drama
Welcome to Ariana Breakup Drama, the ultimate girl game where you can join forces with the beautiful pop sensation Ariana Grande as she embarks on self-discovery after her breakup with her husband. Get ready to dive into a total makeover experience like no other!
In this brand-new celebrity game, you join Ariana on her journey of self-reinvention and indulge in the transformative power of fashion and beauty. As you help her rise above her breakup, the combination of empowering makeup choices and jaw-dropping stage outfits will leave you feeling like a true fashion guru. So, are you ready to embark on this makeover adventure with Ariana? Get your combs, makeup brushes, and fashion sense ready, because the spotlight is waiting! Let the Ariana Breakup Drama begin!
As the game kicks off, you'll find Ariana in tears, devastated over her recent breakup. It's up to you to lend a helping hand and give her the refreshed look she needs. Begin by gently combing her luscious locks, ridding them of any tangles that may symbolize the chaos in her life. Next, wipe away her mascara-streaked tears, cleansing her eyes of the remnants of heartbreak. Once Ariana's face is ready for some much-needed pampering, apply a rejuvenating face mask that will leave her skin glowing and revitalized. Don't forget to soothe her tired eyes with some refreshing eye drops and gently massage some hydrating face cream onto her delicate skin. Time to say goodbye to those post-breakup puffy eyes!
Now that Ariana's face is prepped and primed, it's time to get creative with her makeup look. Channel your inner makeup artist as you choose between different eyeliner styles, eyeshadow palettes, bold lipstick shades, rosy blushes, and sparkling face gems. Let your imagination run wild and create a stunning makeup look that will make Ariana feel like a fierce and empowered queen.
But the transformation doesn't stop there! After perfecting her makeup, it's time to select the perfect stage outfit for this gorgie as you continue playing this online dress-up game for girls. Inspired by her real-life stage ensembles, these outfits exude the glamour and confidence that Ariana is known for. Choose from a wide selection of show-stopping outfits, from sequined bodysuits to chic mini dresses. Each outfit captures Ariana's signature style and will make her shine bright on stage. Picture Ariana in a dazzling silver sequined bodysuit, hugging her curves and encrusted with crystals, as she effortlessly commands the stage with her powerful vocals. Or imagine her flirty pink mini dress paired with high-heeled platforms, exuding both playfulness and sophistication. These outfits are designed to make a statement and will undoubtedly leave Ariana's fans in awe.
Have a great time playing the Ariana Breakup Drama game for girls online at Prinxy.app
Game Controls
Use your mouse to browse through all the options in this online game for girls.
If you like this game, you can also try other Celebrity Games by Prinxy.app: