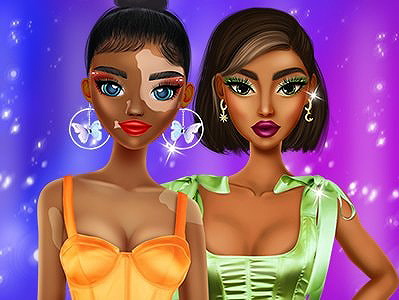 Playing Monochrome Looks on Prinxy
The story about Monochrome Looks
Welcome to Monochrome Looks, a dress-up game where fashion meets fun! Get ready to explore the vibrant world of style with our fabulous friends: Kiki, Polka, Ashley, and Claudia. Brace yourself, fashion enthusiasts, because we are about to take monochrome to a whole new level!
With Monochrome Looks, the possibilities are endless. Mix and match tops, bottoms, dresses, accessories, and makeup to create your own unique style. Explore different combinations and let your imagination run wild. Don't be afraid to experiment and try out new looks – after all, fashion is all about self-expression and having fun!
So, fashion lovers, are you ready to step into the world of Monochrome Looks? Get ready to embrace your favorite color in different shades and create fabulous outfits for our stylish friends, Kiki, Polka, Ashley, and Claudia. Let your creativity shine and become the ultimate fashionista. It's time to dress up, play around, and unleash your inner fashion diva.
Let's start with the queen of pink and fuchsia herself, Kiki. This girl knows how to rock her shades like nobody's business! Mix and match Kiki's tops with some trendy mini-skirts and shorts for an effortlessly chic look. Pair a flirty pink crop top with a high-waisted fuchsia mini-skirt to turn heads wherever you go. Feeling a bit more playful? Go for a pink tank top and style it with a pair of fuchsia shorts – a perfect combination for a fun day out with friends.
Now, let's move on to our fiery friend, Polka. This summer, she's all about embracing the power of orange! Mix and match Polka's tops with some sassy bottoms. Try a vibrant orange tank-top top with a leather mini-skirt for a fierce and edgy look. Feeling a little adventurous? How about an orange cropped sweater paired with a high-waisted pencil skirt? This combo screams "cool girl" and is perfect for a relaxed day strolling around town.
Next up is our green goddess, Ashley. She knows how to turn heads with her unique sense of style. Mix and match Ashley's tops with some trendy bottoms for a fresh and vibrant look. Pair a lime green bow-adorned tee with a ruffled mini-skirt for a casual yet stylish outfit. Feeling a bit more daring? Why not try a lime green halter top with some dark green shorts? This combo is perfect for a night out on the town, letting you stand out from the crowd with your electric green ensemble.
Last but certainly not least, we have our lovely Claudia, the embodiment of all things baby blue! Mix and match Claudia's tops with some charming bottoms for an ethereal and dreamy look. Pair a baby blue ruffled crop top with a pleated denim mini-skirt for a soft and romantic outfit. Want to kick it up a notch? How about a baby blue button-down blouse with a flowy mini-skirt? This combo will have you feeling like a modern-day princess, ready to take on the world with elegance and grace.
But wait, there's more! In this online dress-up game for girls, monochrome looks aren't just about the tops and bottoms. We've got dresses, accessories, and makeup options galore! Transform these stylish combos by adding the perfect finishing touches. For Kiki, add some hot pink earrings and a fuchsia crossbody purse to complete her bold and glamorous look. Polka can rock a statement pair of butterfly hoops and a chained necklace for an extra edge. Ashley can elevate her green ensemble with some gold hoop earrings and some sunnies for a cool and laid-back vibe. And Claudia can embrace her inner mermaid with some silver shell earrings and a metallic clutch for a touch of whimsy.
Have a great time playing the Monochrome Looks game for girls online at Prinxy.app
Game Controls
Use your mouse to browse all the options in this online game for girls.
If you like this game, you can also try other Fashion Games by Prinxy.app: