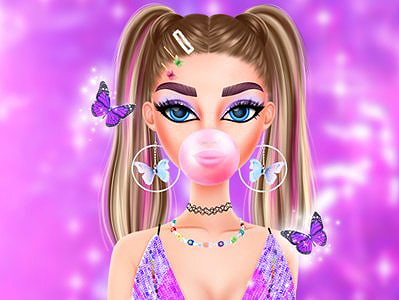 Playing BFFs Y2K Fashion on Prinxy
The story about BFFs Y2K Fashion
Welcome to BFFs Y2K Fashion, the new fashion designer game where you get to have the ultimate fashion experience. If you like style, creativity, and the trend of the year 2000, then this is the right place for you.
BFFs Y2K Fashion will provide you with a wide selection of styles from the decade to help you create the perfect look. From skater girl skirts to ripped jeans and t-shirts or the ever-classic Y2K look with fun-colored low-waisted jeans and crop tops, the possibilities to express your fashion sense are endless! Play the game now and become the ultimate Y2K fashion designer. Bring back the trend and let your style shine!
As the game starts, you will be given the opportunity to design two different t-shirts: a butterfly-shaped top and a printed crop top. To create the butterfly-shaped top, you will be able to choose from various colors for the base, wings, and decoration. Then, you can customize it with beads, glitter, and sequined for an even more unique look. To finish off the look, you can also play a fun mini dress-up game where you can pair the top with low-waist pants, skirts, and accessories that fit perfectly into the TikTok fashion vibe. Are you ready for some more?
Then let's go on and see how you can style up a chic top as you continue playing this free-to-play fashion game for girls. To create the printed crop top, you can start by selecting the perfect base color and then build up the design using prints and logos of your choice. Color the chosen prints as bold as you wish. There are no limits nor fashion rules you need to follow when playing this fashion designer game on Prinxy.app. Once you've completed the top, you can accessorize it with low-waist pants, skirts, and accessories that will get lots of head turns while you walk down the street.
To make sure you stay on top of all the trends, BFFs Y2K Fashion also gives you the chance to practice your makeup artist skills as each look you create needs a Y2K-inspired makeup look too. We've picked the best options for you, go ahead with the makeup game and choose the one you find right for each outfit you've created.
Have a wonderful time playing the BFFs Y2K Fashion game online at Prinxy.app!
Game Controls
Use your mouse to browse through all the options in this online game for girls.
If you like this game, you can also try other Fashion Designer by Prinxy.app:
Strawberella
Fashionistas: Trendy Vibes