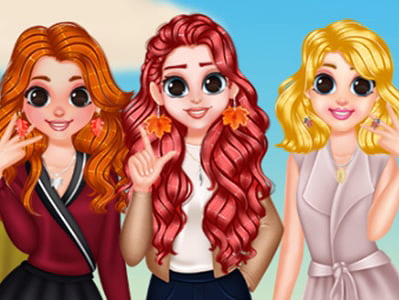 Playing Sorority Fall Fashion on Prinxy
The story about Sorority Fall Fashion
Autumn has come and painted the fantastic world in its copper shades, and these trendy BFFs couldn't be happier. It's sweater weather season, and they can't wait to discover this fall's latest trends! In the Sorority Fall Fashion dress up game for girls, you are their personal fashion adviser, and you help them to welcome fall looking cute in their trendy layered outfits. Play it online at Prinxy.app!
So let's dig in their seasonal wardrobe to discover this fall's favorites. Oh, girls, you are going to love the 2020 fall fashion trends! There are lots of cozy sweaters in nude colors or grey shades, there are knitted sweaters in earthy tones, jeans, tons of accessories to choose from. Browse through all the cool layered outfits featured in this online princess game for girls, and feel free to pick the outfits you like the most to dress up princesses Ariel, Merida, and Cinderella in lovely fall outfits. Next, complete the chosen outfits with new hairstyles and jewelry of your choice. When you've done dealing with their daily outfits, you can then challenge yourself to help them with their makeup look too!
In this free to play makeup game, you can surprise princesses Ariel, Merida, and Cinderella with your makeup artist skills while you create their makeup looks next. Check out the cosmetics available in both pastel and autumn colors, and choose the shades you like the most for each girl. Finally, group them and snap a picture of your creation.
Have a great time playing the Sorority Fall Fashion game for girls online at Prinxy.app!
Game Controls
Use your mouse to interact.
Similar Games
Here are three more Fashion Games you should check out: