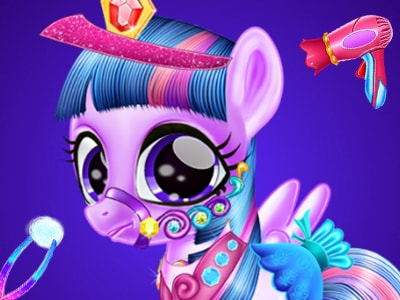 Playing Magical Pony Care on Prinxy
The story about Magical Pony Care
Get ready to prove your unicorn care skills, ladies! One of your favorite unicorn ponies from My Little Pony Friendship Is Magic needs your help today! She is injured and dirty and needs someone to help her out! Can you? Come and join Twilight Sparkle in this online pet game for girls called Magical Pony Care!
Twilight Sparkle is a princess, and messy looks aren't her thing. She had a blast though playing around with her pet owl named Owlowiscious, and now the colorful unicorn pony needs to get rid of the dirt and superficial injuries. Hurry up, join her in getting started with the Magical Pony Care pet game for girls, and step by step, take care of your favorite pony character.
Start with removing the leaves from her fur. Use a pair of tweezers, pick them one by one, and drag them to the tray. Then spoil the adorable purple pony with a warm bubble bath. Use warm water and delicate shampoo to wash her body, then wipe her dry with a towel, and blow-dry her hair. Next, you have to take care of her ears. You should clean them with a cotton ball to keep them dry and to avoid further ear infection. Then brush Twilight's short hair, clean her feet, and replace her broken hooves with new hooves. With this last task, the caring process is complete. Now you can show off your vet skills as well!
As Twilight Sparkle's personal doctor, you have to take care of her bruises. You should also make sure she's healthy and ready for a new adventure. Use a stethoscope to check her heartbeats, take her temperature, give her some painkillers to help her deal with the pain, and pour some eye drops into her eyes to clear her vision. Apply a magical potion on her bruises to get rid of them, disinfect the scratches one by one, and don't forget to apply colorful band-aids over each cut. Finish your vet tasks by giving Twilight a vaccine. It seems she skipped one. She feels way better now! Are you ready for what's next?
Now that Twilight's wounds are healed, you can surprise her with a royal feast! Give her some carrots and fruits to eat and some water to drink. Last but not least, you are challenged to deal with her look of the day. On the next page of this online Twilight Sparkle dress up game, you can choose from a selection of items and sparkling accessories the ones you like the most for our beautiful unicorn pony!
Have a great time playing the Magical Pony Care game for girls online at Prinxy.app!
Game Controls
Use your mouse to interact.
Similar Games
Here are three more Pet Games you should check out: