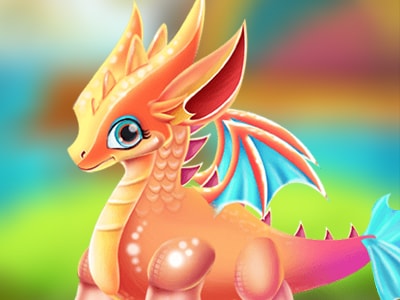 Playing Cute Dragon Recovery on Prinxy
The story about Cute Dragon Recovery
Your pet care skills are needed today online at Prinxy.app! We have a playful dragon who got hurt pretty badly in his latest flying class and who needs all your medical attention. Come and join him in the Cute Dragon Recovery pet game for girls, put your veterinarian skills to the test, and take good care of his injured body!
This baby dragon does not have much experience with flying at high altitudes. Today, he wanted to challenge himself, but unfortunately, he lost control of his body, and he fell hard, hitting everything on his way between the sky and the ground. Now, here is where your pet vet skills are needed in this online dragon game for girls. Hit the start button, assess the damage, and start taking care of all the injuries by applying the miraculous treatment. Remove the tree branches that remained trapped in his body, and then take care of the cuts by treating them with cooling mint cream. His tail looks a bit shaken too so, make sure to wrap it into a bandage so it will recover faster. Next, give him an injectable sedative to help him cope with the pain caused by the fall.
Now bring him home and get ready to discover a new challenge in this online pet care game. Treat your new friend with a warm bubble bath and a brand-new outfit. It might sound complicated to dress up a dragon, but don't miss this fun opportunity to dress him up in a really funky outfit. A colorful outfit will cheer him up, so simply browse through the impressive selection of t-shirts and bottoms, try different combinations and select the winning one. Accessorise it with a pair of new wings and a tail of your choice. Do you know what will help speed up the healing process? A yummy homemade meal so be prepared to complete all the steps in the cooking session we've prepared next.
In our virtual kitchen, you will find everything you need to prepare a delicious meal for your baby pet. He's craving for some yummy tacos, but luckily you can prepare them really quickly. Simply sauté the minced meat with fresh vegetables, and then prepare the taco pita. Put everything together and serve the dish to your hungry baby dragon. Your pet caring task is complete when your pet feels better and in the mood for another training session.
Have a wonderful time completing all the challenges in the Cute Dragon Recovery pet game for girls.
Game Controls
Use your mouse to interact.
Similar Games
Here are three more FREE Pet Games you should check out: