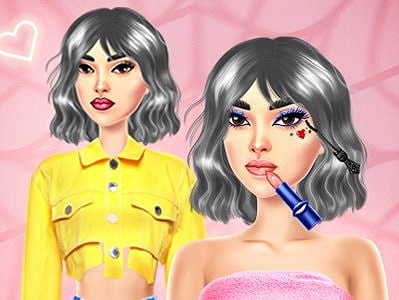 Playing Wednesday Light Academia on Prinxy
The story about Wednesday Light Academia
Step into the fun, chic world of Wednesday Light Academia, a trendsetting makeover game revolving around pop culture-icon, Wednesday Addams. Watch this iconic e-girl transition into a dazzling girly-girl fashionista as you take the helm and craft all the steps of her transformation!
Are you ready to get started with her total transformation? Then let's start with a makeup removal session. Say farewell to her signature goth-inspired makeup, and revitalize her complexion with a skincare routine: apply a soothing cleanser, then pamper her complexion with a revitalizing toner, apply nourishing serum, a hydrating moisturizer, and protective sunscreen to keep her skin glowing and healthy. Remember, even while playing Wednesday Light Academia, applying sunscreen is a must! Protecting your skin from harmful UV rays is not just a game plan but a crucial part of real-life skincare, especially for teens who are at a prime age to establish healthy habits.
Next, you are stepping into the shoes of a talented hairstylist, and you spoil young Wednesday with a fabulous hair makeover. Begin by applying a bleacher over her hair to remove the dark color from Wednesday's locks, and then rinse it well. Cut her long locks into a snappy bob, and style it into playful waves. The hairstyling adventure continues as you pick a vibrant new hair color for Wednesday's brand-new hairstyle. You can go for a natural chestnut color, a warm blonde shade, or even a vibrant pink hair color.
In the next exciting unit of our online makeup game, you're her makeup artist, and you get to decide on her next winning look. Experiment with vibrant eyeshadow options and volumizing mascara to make your eyes pop. Complement the makeup of her eyes with creamy lipstick, and then select from the wide variety of sparkling gems the ones you like the most to complete Wednesday's girly-girl makeup look.
Finally, you get to redefine her style with a range of outfits. Will it be a pastel skater skirt, a sequined bra top, baggy jeans, or a girly dress with cute flower prints? With this new fashion game, you can let your creativity shine by making high fashion decisions with a fun and witty edge, just like flipping through the pages of your favorite fashion magazine. Once you find the winning look, you can accessorize it with the right pair of shoes, statement jewelry, and a designer handbag. Let the thrilling experience of Wednesday Light Academia guide you to a fashion world filled with glamour and style. Play, experiment, transform, and bring to life Wednesday Addams as never seen before!
Have a great time playing the Wednesday Light Academia game for girls online at Prinxy.app
Game Controls
Use your mouse to browse through all the options in this online game for girls.
If you like this game, you can also try other Wednesday Games by Prinxy.app: