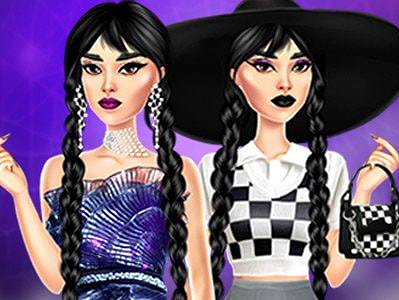 Playing Wednesday Dark Academia on Prinxy
The story about Wednesday Dark Academia
Welcome to Wednesday Dark Academia, the ultimate game for fashion-forward girls everywhere! In this brand-new game for girls, you follow Wednesday Adams on her journey to school and beyond as you recreate her unique style. Get ready to take Wednesday's style to the next level while playing the Wednesday Dark Academia dress-up game for girls online at Prinxy.app!
Now let's get it started! Inspired by the hit Netflix series, Wednesday, you can now experience the world of Wednesday Adams firsthand. With Wednesday Dark Academia, you can create the looks of your dreams, from head to toe. With three different units, you can make sure you have the perfect clothing and accessories for any occasion. Are you ready?
Start by creating the perfect look for Wednesday. With the first unit, you can do her makeup, giving her a look that's perfect for school or the ballroom. Get creative with the dark lipstick and eyeshadow, and with a little bit of imagination, you can create a look that's all your own. You can then complete her bold look with a black mascara as you continue playing this online makeup game for girls. Are you ready for some more?
Then lets continue playing the Wednesday Dark Academia with the first fashion challenge we've prepared for you. The second unit of our fashion game lets you dress Wednesday for a fun day at school. With a wide selection of pleated skirts, leather pants, sweatshirts and collar dresses inspired by the latest trends, you can choose the clothing pieces and accessories that will make Wednesday look her best. With jewellery, headbands, and more, you can add the perfect finishing touches to her look.
Finally, you get to dress her up for the upcoming party night. The annual black-tie ball is the most awaited event in Wednesday's school and she has been preparing for it. There are lots of designer gowns and chic two-piece elegant outfits that you can have her try on. You can choose from red asymmetrical dresses and glamorous purple dresses, to black combos or sequinned looks. No matter what you decide to choose for her, you can make sure she looks her best with the perfect accessories. So what are you waiting for? Get creative with Wednesday Dark Academia and create the looks of your dreams!
Have a wonderful time playing the Wednesday Dark Academia game online at Prinxy.app!
Game Controls
Use your mouse to browse through all the options in this online game for girls.
If you like this game, you can also try other Goth Games by Prinxy.app: