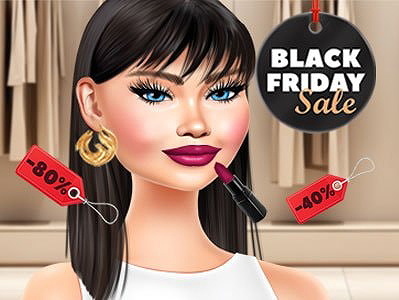 Playing Shopaholic Black Friday on Prinxy
The story about Shopaholic Black Friday
Get ready to embark on a wild shopping spree with Selena Gomez in our engaging dress-up game called Shopaholic Black Friday! As the stylist, it's your job to ensure Selena looks fabulous for her grand shopping adventure. With a variety of trendy clothing pieces to mix, match, and purchase, this game is a must-play for any fashion-forward stylista!
So, are you ready to put your fashion skills to the test as you curate the perfect looks, shopping for all the makeup and outfit essentials in a spirited, interactive environment? Then let's begin your fashion journey by diving into our glistening makeup game. Only a few makeup options are unlocked at first, and this means one thing: you will have to hurry to the mall and purchase some more. Quickly create an irresistible look with the options you have available at your disposal, and then go shopping for some more cosmetics. Check out the wishlist at the bottom of your screen, and spot them all by searching through the variety of options on the store shelves. Keep an eye on the timer, too, and try to buy as many items as possible before the time runs out. Continue the fashion adventure, return to the shop, and unlock all the products in Selena's makeup kit. Once all are unlocked, you can go crazy with her new makeup look. Shopaholic Black Friday lets you experiment with endless makeup options ranging from vibrant eyeshadows to glossy lipsticks, ensuring Selena stands out in the Black Friday crowd. Whether you opt for a soft, romantic glow or a dramatic evening allure, the choice is all yours. With a large variety of makeup options at your fingertips, comprising bold lipsticks, shimmering eyeshadows, and radiant blushes, create a makeover that accentuates Selena's natural beauty, highlighting her best features.
With the perfect makeup look secured, move on to the wondrous world of our dress-up unit. Sliding into the clothing unit, you will be greeted by an array of sensational fashion pieces awaiting your expert touch. Be creative, mix and match the options available, and create a stunning shopping look for our girl. Then head to the mall again and have another shopping spree. Fill Selena's fall wardrobe with the latest fashion trends, and then have a blast crafting trendsetting ensembles that mirror Selena's personality, ensuring she's always in style amidst the Black Friday frenzy. Mix and match her chic tops with stylish bottoms, or choose an elegant dress for an effortless, head-turning look. Don't forget to complete her look with the right pair of shoes and glitzy accessories for that perfect holiday shimmer!
Have a great time playing the Shopaholic Black Friday game for girls online at Prinxy.app
Game Controls
Use your mouse to browse through all the options in this online game for girls.
If you like this game, you can also try other Black Friday Games by Prinxy.app: