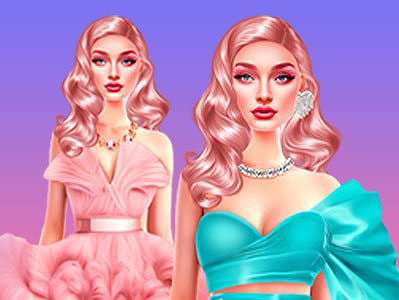 Playing Barbiecore Aesthetics on Prinxy
The story about Barbiecore Aesthetics
Welcome to Barbiecore Aesthetics, the ultimate dress-up game for girls who love fashion and style! Get ready to unleash your creativity and immerse yourself in the glamorous world of Barbie with three exciting dress-up units centered around different themes.
What sets Barbiecore Aesthetics apart is that every element in the game, from the clothes to the characters and backgrounds, is created using cutting-edge AI technology. This ensures a realistic and immersive experience as you dress up your Barbie dolls in stunning outfits that fit perfectly with the Gala theme. Are you ready to dive in? So, put on your fashionista hat and let your creativity soar as you enjoy hours of fun in this fashion-filled dress-up game. Barbiecore Aesthetics is the ultimate destination for girls who love Barbie games and fashion games. Be ready to express your unique style and create iconic Barbie looks that will leave everyone in awe!
In the first unit of this free-to-play fashion game, you get to indulge in the iconic Barbie aesthetic with stunning light pink colors. Mix and match a wide selection of fabulous tops, skirts, dresses, shoes, and accessories to create the perfect Barbie look. From trendy crop tops to elegant evening gowns, the possibilities are endless! Complete your ensemble with dazzling jewelry and chic purses, adding that extra touch of sophistication. Will you go for a classic Barbie-inspired outfit or push the boundaries with a modern twist?
Next up, the second unit explores the vibrant and sassy viva magenta colors. Pick from an impressive selection of stylish tops, skirts, dresses, and shoes to curate a fierce and fashionable ensemble. Complement your outfit with eye-catching jewelry and trendy purses that'll make heads turn wherever you go. Will you create a bold look or opt for a more elegant and classic style? The choice is yours!
Finally, in the third unit of our #barbiecore game, embrace the soothing vibes of aqua blue. Discover a range of tops, skirts, dresses, shoes, and accessories that exude serenity and elegance. Dress your Barbie in shimmering outfits, or try on those sophisticated embroideries that perfectly highlight her body shape. Experiment with different textures and styles, mixing sequined tops with flowing skirts or metallic dresses with statement shoes. Complete the look with gorgeous jewelry and stunning purses, adding a touch of sparkle to your ensemble.
Have a great time playing the Barbiecore Aesthetics dress-up game for girls online at Prinxy.app
Game Controls
Use your mouse to browse through all the options in this online game for girls.
If you like this game, you can also try other Barbie Games by Prinxy.app: