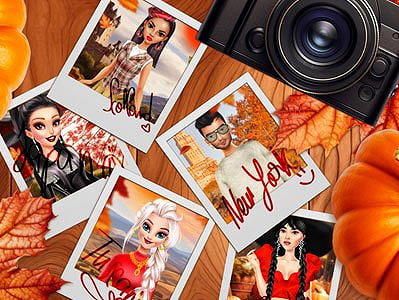 Playing Fall Aesthetics on Prinxy
The story about Fall Aesthetics
Are you ready for an epic adventure this fall? Join Brian, Elsa, Wednesday, Lina, and Riri - five friends who are set on exploring the world and sharing their fashion experiences along the way. With their unique styles, impeccable wardrobes, and exciting destinations, Fall Aesthetics is the ultimate dress-up game that allows you to step into the vibrant world of fashion and travel.
So, grab your virtual suitcase and get ready to show off your fashion skills in the most stylish dress-up game of the season. Play Fall Aesthetics now, and let the fashion and travel adventures begin!
Let's start with Brian, who is living his best life in the bustling streets of New York City. Whether he's strolling through Central Park or attending a glamorous rooftop party, Brian's wardrobe has got you covered for both relaxed and elegant occasions. Choose from a variety of outfits, including stylish blazers paired with crisp shirts and slim-fit trousers, or go for a casual look with a classic t-shirt and jeans combo. Don't forget to accessorize with trendy sneakers or sleek glasses to complete the ensemble.
Next up is Elsa, who is enjoying the magical Tuscan sun. Inspired by the rich colors of the enchanting region, her wardrobe in this online princess game is filled with shades of red and gold. Want to channel some Italian elegance? Choose a stunning red midi dress with a large bow and pair it with strappy red sandals and golden jewelry for a chic and sophisticated look. Or, opt for a more relaxed vibe with a flowy red blouse and high-waisted jeans. Complete Elsa's look with golden accessories such as statement earrings or a delicate necklace.
Wednesday, on the other hand, has found her pumpkin paradise at a boom-tastic festival. Her wardrobe reflects the dark academia aesthetic, perfect for those who appreciate vintage and mysterious vibes. Choose from a range of outfits, such as a pleated skirt paired with a turtleneck leather t-shirt and knee-high boots, or go for a more edgy look with a leather dress and combat boots. Add some finishing touches with retro-inspired accessories like a hat or cat-eye glasses.
Lina is soaking in the traditional beauty of Japan. Her wardrobe is a perfect blend of Gothic and chic elements, ideal for those who embrace their inner darkness. Explore her collection of black body-fitting dresses adorned with intricate details, or opt for a fitted gray top paired with high-waisted trousers. Continue playing our online fashion game, and to complete Lina's look, experiment with Gothic-inspired makeup options, such as dark red lipstick or bold smokey eyes.
Last but not least, we have Riri who is off to Scotland to embrace the stunning landscapes and Celtic traditions. Her wardrobe is all about plaid, giving you the perfect opportunity to showcase your sense of style. Choose from a variety of plaid skirts, and accessories, and mix and match with solid-colored tops for a trendy look. Don't forget to explore the makeup options, as well. Experiment with subtle smokey eyes using earthy tones and add a touch of rosy blush to achieve Riri's charming Scottish beauty.
What are you waiting for? Join Brian, Elsa, Wednesday, Lina, and Riri on their exciting adventures this fall in Fall Aesthetics. Discover new fashion trends, create stunning outfits, and let your imagination run wild. Whether you're a fashion enthusiast, a travel junkie, or simply looking for a delightful gaming experience, Fall Aesthetics is the perfect game for you. Best of all, it's free to play!
Game Controls
Use your mouse to browse through all the options in this online game for girls.
If you like this game, you can also try other Fall Dress Up Games by Prinxy.app: