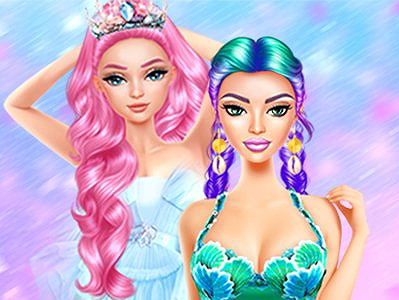 Playing Mermaidcore Aesthetics on Prinxy
The story about Mermaidcore Aesthetics
Get ready to dive into the magical underwater world of Mermaidcore Aesthetics, the ultimate dress-up game that will transport you into the captivating realm of mermaid fashion. Inspired by the popular TikTok trend #mermaidcore, this game brings together the worlds of fashion and fantasy in a witty and fun way. Join three fabulous fashionistas on their mermaid fashion adventure, each with a unique wardrobe that will make your inner fashionista do a happy dance!
In Mermaidcore Aesthetics, the colors play a vital role in capturing the essence of the mermaid world. The aqua-inspired palette of blue, turquoise, purple, white, pink, and coral sets the tone for the game, bringing the magical underwater realm to life. With this dress-up game, you can let your creativity run wild and create stylish and whimsical mermaid-inspired looks. Join the fashionistas in their mermaidcore fashion journey, get ready to dive into the enchanting world of Mermaidcore Aesthetics, and let the waves of fashion carry you away. Let your imagination swim free as you mix and match the colors to create stunning combinations that reflect the beauty of the ocean. The sea is calling, and it's time to embrace the magic of #mermaidcore!
Meet our first mermaidcore fashionista who is all about a dreamy and ethereal look. She has impeccable taste in fashion, and her wardrobe is a treasure trove of mesmerizing outfits. Picture her in a breathtaking aqua dress that billows around her like the waves of the sea. Pair it with a delicate princess tiara for that perfect touch of playfulness. For a flirty and whimsical combination, she can don a lavender skirt with a matching crop top that adds a dash of magic to her fantasy outfit. And let's not forget about the elegant charm of a baby-blue flowy dress, perfectly complemented by a selection of pearl jewelry. This girl knows how to capture the essence of mermaidcore and make a style statement wherever she goes.
Our second fashionista is a true mermaidcore maven who loves to make a splash with her playful prints. She delights in vibrant and quirky outfits that capture the spirit of the sea. As you continue playing this fashion game for girls, you can dress her in a playfully printed dress adorned with adorable sea creatures like jellyfish, starfish, and seahorses. To add a touch of beachy charm, she can a blue crop top decorated with lovely seashells with an adorable printed mini skirt. For a bolder look, she can opt for a sequined purple mini skirt paired with a turquoise crop top – a dynamic combination that exudes confidence and style. And for an explosion of colors and prints, she can mix a neon-printed mini skirt with a sequined purse, creating a whimsical ensemble that will turn heads and bring smiles to everyone's faces.
Last but certainly not least, our third fashionista is all about the glitz and glamor of mermaidcore. She loves to shimmer and shine in sequined outfits that make her the star of the show. Get to the third level of our free-to-play game for girls and dress her in a jaw-dropping aqua sequined dress that glistens with every move, perfectly paired with a pearl necklace for a touch of elegance. For a more dramatic entrance, she can opt for a turquoise sequined skirt that catches the light and dazzles onlookers, coupled with a coral sequined crop top that adds an extra dose of sparkle. And to truly embrace the enchantment of mermaidcore, a purple sequined dress with a stunning starfish-adorned clutch will make her the queen of the underwater fashion realm.
Of course, no mermaid outfit is complete without the perfect accessories. Mermaidcore Aesthetics is all about embracing the seaside elements, so pearls and seashells are key. Browse the accessories available at your disposal in our dress-up game for girls, and select the ones that best complement the chosen outfits.
Have a great time playing the Mermaidcore Aesthetics game for girls online at Prinxy.app
Game Controls
Use your mouse to browse through all the options in this online game for girls.
If you like this game, you can also try other TikTok Games by Prinxy.app: