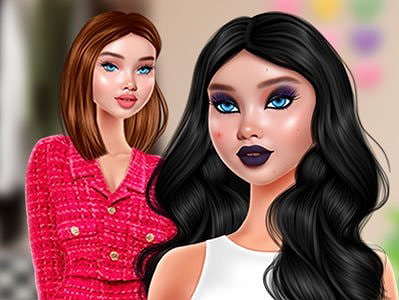 Playing Back 2 School Makeover on Prinxy
The story about Back 2 School Makeover
Get ready to unleash your inner stylist in Back 2 School Makeover! Embark on a fabulous journey with our character, Amelia, as she transforms from an edgy e-girl to a chic, school-ready fashionista.
The game kicks off with Amelia rocking her classic e-girl style, complete with long, dark locks and a bold makeup look. It's your job to revamp her entire look to make her the ultimate head-turner in school! First up, it's hair time! Indulge in a hair care routine like no other – bleach those dark tresses to pave the way for a stunning chestnut-colored mane. Give her locks a thorough wash, dry them to perfection, and chop them into a playful bob haircut.
But the hair isn't the only thing on the agenda! Our girl needs a flawless complexion to match her new 'do. Pamper her with a luxurious facial treatment that banishes those pesky pimples, leaving her with clear, glowing skin. Now, it's time for the makeup magic! Dive into a vast selection of eyeshadows, mascaras, lipsticks, blushes, and iris options to create the ultimate girly makeup look. From subtle and sweet to bold and sassy, the possibilities are endless! Experiment with different eyeshadow palettes, ranging from neutral tones to vibrant pops of color. Add length and volume to Amelia's lashes with a selection of mascaras that will make her eyes pop. Choose from an assortment of lipsticks, from classic nudes to bold, statement shades. Give her cheeks a natural flush with a variety of blush options. And don't forget to explore different iris options to find the perfect eye color to match her new look as you continue playing this fun makeup game for girls online at Prinxy.app!
And let's not forget about Amelia's back-to-school wardrobe! The clothing options in Back 2 School Makeover will have you oozing style and trendiness. Dress Amelia in fashionable dresses ranging from cute and flirty plaid patterns to sleek and chic little black dresses. Mix and match tops and bottoms to create unique and stylish outfits that reflect her personality. Pair her outfits with trendy shoes, from comfy sneakers to knee-high boots, depending on her mood and the occasion. Accessorize to perfection with a variety of stylish bags, jewelry, and other trendy accessories to complete her ensemble. The options are limitless in this school-themed fashion game for girls, and each outfit is guaranteed to make a statement.
Back 2 School Makeover is the ultimate game to get your fashion fix, combining hair care, beauty treatments, makeup, and dress-up in one glam-packed adventure. So, channel your inner stylista and get ready to rock the halls with your style!
Game Controls
Use your mouse to browse through all the options in this online game for girls.
If you like this game, you can also try other School Games by Prinxy.app: