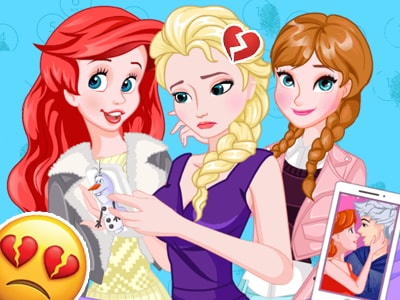 Playing Is Jack Frost Cheating On Elsa? on Prinxy
The story about Is Jack Frost Cheating On Elsa?
Elsa caught Jack Frost cheating on her, and oh boy, that led to an emergency BFFs gathering! She needs all her friends around her during these tough times, and you should be there too! So come and join your favorite Frozen Queen in this fun game for girls getting started with Is Jack Frost Cheating On Elsa?
But before she wipes away her tears and forgets about him forever, let's discover Elsa's breakup story! Join the happy couple at the cinema and help Elsa peek into Jack's phone. Simply, set the password to unlock her boyfriend's phone and then scan through Jack's phone. This special task requires a lot of precision and attention, but if you are familiar with slacking games, then you'll easily complete it. Keep Jack busy with popcorn and soda, and, at the same time, hold down the left click of your mouse to help Elsa scan through his phone. Release the mouse when Jack is getting distracted and then repeat until the progress bar is complete.
HINT: To unlock Jack's phone you have to enter the date of Elsa's favorite holiday. That's Christmas :)
Were her suspicions well-founded? Of course, they were. Women have a 6th feel very well developed, she just had to confirm her suspicions. Now that their relationship has ended she needs all her friends around to keep her entertained. Here is where you, Anna, and Ariel join forces to cheer Elsa up and help her feel better. You ladies are taking Elsa out, and you will make sure that she gets through this difficult period of her life.
Come and join your favorite Disney girls in their dressing room getting started with this brand-new dress up game for girls, and help the three friends prepare for a girls' night out. Browse through their colorful wardrobes and select either a lovely dress or a cute two pieces outfit for each girl, then pair your selection with a knitted cardigan or with a faux-fur vest, and with the right pair of high heeled shoes. Then select a nice location for them to enjoy their time together.
Game Controls
Use your mouse to complete all the activities in this online game for girls.
Similar Games
Here are three more Couple Games you should check out:
Ben Leaving Ellie
Ice Queen Break Up
Eliza Breakup Drama