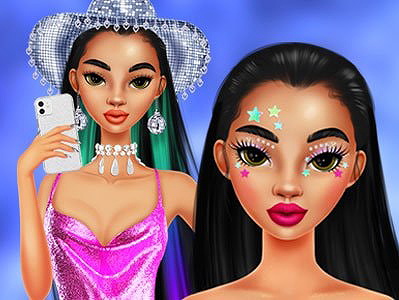 Playing Get Ready With Me: Concert Day on Prinxy
The story about Get Ready With Me: Concert Day
Are you ready for the ultimate glam experience? Get Ready With Me: Concert Day is the dress-up game that will take your fashion game to the next level! Join our girl as she gets ready for Beyonce's Renaissance concert in a silver futuristic mood which includes glam sequins and lots of Barbie pink.
In Get Ready With Me: Concert Day, the possibilities are endless. You have the power to create a one-of-a-kind look that will make heads turn at Beyonce's Renaissance concert. So, what are you waiting for? Step into the world of silver glam and get ready to slay the fashion game like never before!
First, let's start with the DIY cowgirl disco hat. Apply the silver spray to give it a shiny look and then use the hairdryer to make sure the color stays in place. Use the adhesive to carefully stick mirror tiles onto the hat to create a dazzling effect. Don't forget to clean the tiles for a flawless finish. Spray some mirror cleaner over the entire hat and then use a soft cloth to clean the tiny mirrors, making them shine bright. Complete the look by adding heart fringe accessories for that extra wow factor.
Now, it's time to focus on makeup. Use the eyeshadow palette to create stunning combinations ranging from bold metallics and glittering gems to shimmery pinks and super sophisticated eyeliners. Apply mascara to give your lashes a dramatic boost. Go bold and try our selection of colored mascaras, or go classic and select your favorite black mascara. Add face stickers for a futuristic touch and choose from a range of lipsticks and blushes to complete Riri's concert look. Dare to go for a bold blue or silver lipstick this time. Experiment with different combinations to find the perfect makeup style for the concert.
Once your hat and makeup are on point, it's time to tackle the dress-up part of the game. From stylish tops and bottoms to elegant dresses, the options are endless. Not to mention that they are inspired by Queen Bee's stage outfits. So stunning! Browse through them all, select your favorites, and feel free to mix and match them to create your own unique style for the concert. Don't forget to accessorize with statement jewelry, sunnies, and hand fans to complete your outfit. And why stop there? Don't be afraid to take your fashion game to the next level by experimenting with different hair color options. From bold and vibrant hues to subtle highlights, the choice is yours. Try out different hair color options to truly stand out from the crowd.
Game Controls
Use your mouse to browse through all the options in this online game for girls.
If you like this game, you can also try other Fashion Games by Prinxy.app: