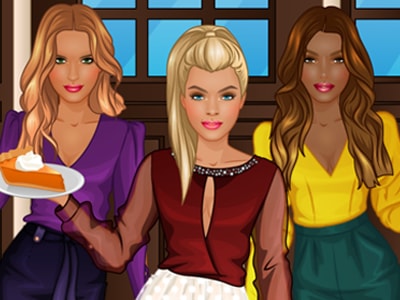 Playing BFF Studio - Thanksgiving Dinner on Prinxy
The story about BFF Studio - Thanksgiving Dinner
These fashionable best friends are celebrating Thanksgiving Day together at home. It's the perfect occasion for them to spend the day chilling, feasting, and catching up with the latest events in each of their lives. As always, each of them will bring a yummy dish to the party, but how about their looks? Spending Thanksgiving at home doesn't mean they can't be fashionable, don't you agree? Let's help each of them come up with a jaw-dropping festive look while playing the BFF Studio - Thanksgiving Dinner dress up game for girls online at Prinxy.app!
Thanksgiving is usually celebrated on the fourth Thursday in November, based on the colonial Pilgrims' 1621 harvest meal. The holiday continues to be a day for Americans to gather together for a day of feasting, football, and family. It is also celebrated in a few non-US countries. We are curious, do you guys celebrate it? Whether you celebrate it or not, come and help our girls prepare their festive outfits for the upcoming festive dinner. In this fashion game, you are going to find plenty of chic clothing pieces and accessories to choose from and create unique and stylish looks for each girl. Let's take a look!
Get started with the BFF Studio - Thanksgiving Dinner dress up game for girls, and dare to open their wardrobe filled with elegant clothes in warm, autumn colors. Among all the things that were stuffed there, you can find an impressive selection of cozy, knitted off the shoulder dresses, body-fitting printed dresses with oversized puffy sleeves, and some elegant, business-like jumpsuits. Next, don't forget to take a look at their selection of two-piece outfits. There are crop top blouses and shirts that you can pair with tulle skirts, pencil skirts, or even with pants. Dress up the girls in the clothes you like the most, and select the best outfits for them. Then go on and complete the chosen outfits with ankle boots, or stylish pumps, and with new hairstyles.
Last but not least, look through the Thanksgiving menu as well and select a yummy dish for each girl to bring to the Thanksgiving dinner. Have a great time playing the BFF Studio - Thanksgiving Dinner game for girls online at Prinxy.app!
Game Controls
Use your mouse to interact.
Similar Games
Here are three more Holiday Dress Up Games you should check out: